Alberta donair costume craze sparks fierce bidding war, fundraiser, premier photo-op
Become obsessed over the auction of a donair costume — it's the most Edmonton thing you can do.
That seems to be the sentiment gripping the city and the rest of the province as interest over a never-used costume pushed the bidding past $16,000 on Friday.
With auction usernames like PRIMETIMEDONAIR, BLOWERSGRAFTON, THEPINT, KINGOFDONAIR and SWISSDONAIR, the auction has been overtaken by restaurants with deep pockets and a desire to own the one-of-a-kind outfit.
"It's something we really want," said Josh Robinson, the co-founder of Blowers and Grafton, one of the bidders.
Many of the restaurants have been upping their bids each day, surpassing $10,000 Friday before skyrocketing thousands more as the businesses let the auction program place proxy bids on their behalf, $5 at a time.
Robinson's Calgary-based restaurant has several locations across the province that serve up Halifax street food and other East Coast favourites.
He spoke with Global News Friday from the Nova Scotia capital city, where he grew up and is now back visiting — all while keeping an eye on the Alberta Online Auction website.
"We're going to stay on it here. We're not too worried," he said of the soaring bids. Robinson wouldn't say how much Blowers and Grafton is willing to pay for the costume, but said they aren't backing down.
"We're in it to win it, for sure."
Alberta donair costume craze sparks fierce bidding war, fundraiser, premier photo-op
Some of his team even got to meet the mascot in person Thursday night.
Government of Alberta staff trotted out the famous costume for a photo-op with Premier Danielle Smith at the Taste of Edmonton. The restaurant has a booth at the festival, selling lobster rolls, a mini donair and fried pepperoni.
"It was just really funny, really cool for our team to meet the mascot and stuff like that. It was pretty special," he said.
Smith herself also ate one of the wraps while walking and talking with festival organizers and vendors at the downtown Edmonton food festival.
"Well, I'm going to go for a donair," Smith laughed.
"Does the donair want to come? Or would that be weird for you?" she said to the four-foot-seven mascot.
The two then strolled through the festival, hand in hand, to the delight of onlookers.
The Alberta government has revealed the origin story of the donair costume.
Service Alberta said the one-of-a-kind costume was purchased in 2015 for a traffic safety video campaign about the perils of driving high on cannabis.
The video was never made, as the province decided to go in another direction for the Don't Drive and Donair awareness campaign.
AB Today reporter Catherine Griwkowsky, who appears to have been the first reporter to share the auction listing on Twitter earlier this week, spoke with a former staffer who said the suit was procured for a Steve Buscemi-esque character dubbed "The Wise Donair."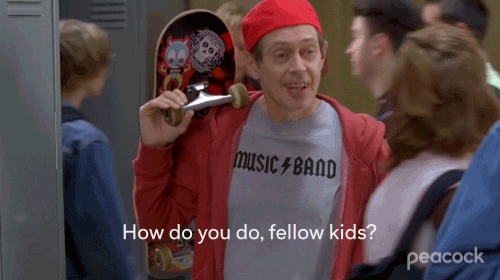 She reported The Wise Donair campaign was first pitched under the former PC government but was ultimately kiboshed by the newly-elected NDP government in 2015.
While the oversized sandwich made of latex, rubber and synthetics was created by Los Angeles-based special effects studio Alterian Inc., Edmonton is also home to a world-class mascot creator who isn't surprised by the hoopla over the donair.
"Character costumes are extremely popular," said International Mascot Corporation president Joel Leveille.
From Tony the Tiger to Rooty the A&W bear, the mascot company with locations in Edmonton and Atlanta, Ga., has been making mascots since 1983. Leveille knows a thing or two about mascots.
"People use them in all different types of endeavours to promote their organizations.
"In this particular case, it's such a unique costume."
Leveille said Alterian is a well-known studio that creates high-quality costumes and props for all sorts of productions and the donair outfit is no exception.
While the bid for the costume might seem high to some people, Leveille said for the restaurants involved, it's a good investment.
"That costume probably costs somewhere between $10,000 and $15,000 originally. We produce custom-made costumes that range anywhere from $5,500 to as much as $15,000 ourselves."
"Those bidding on it might want to find a way to put their logo on it or perhaps even add a personality to it — because right now, it's simply a donair."
The government auction listing says it's in excellent but dusty condition.
"It's unfortunate that this beautiful donair costume that has captivated social media never made it into the awareness campaign, but I'm pleased that it has now found its way into the spotlight," said Dale Nally, the minister of Service Alberta and red tape reduction.
"I can't wait to see where the costume finds its new home."
Alberta government is auctioning off a donair costume and people are eating it up
While Robinson wants to win the outfit for Blowers and Grafton, the business is seizing the moment and holding a fundraiser this weekend to help with what the commercial intended to do: raise awareness to prevent impaired driving.
"In kind of that spirit, we're donating $1 from every donair — regular or large — at all six of our locations this weekend, Saturday and Sunday. So it should be a good chunk," he said.
The money will be donated to Mothers Against Drunk Driving (MADD).
Robinson suspects the auction will raise more money than the province spent to commission the costume to begin with, and he's calling on the government to donate the winning auction bid to charity.
"We feel like it'd be kind of appropriate to put those towards impaired driving (prevention) and get those funds where they're supposed to be."
Halifax-based restaurant chain King of Donair (KOD), which is credited with perfecting the recipe when the restaurant first opened in 1973, thinks the province should let the winner donate the winning bid to charity.
The auction website has been so overwhelmed with traffic this week, it's at times gone down.
"The Alberta Online Auctions website is experiencing technical difficulties," Service Alberta shared Thursday. "The website has recently had higher interest and traffic from Albertans and we are working to resolve the matter immediately."
At times on Thursday, some bids appeared to have been removed from the auction, including from three accounts that had "climate" in their username.
The ministry told Global News, "Service Alberta and Red Tape Reduction's Surplus Sale has a system in place that can verify if a bid is legitimate or not. Bidders that do not meet the verification process are taken down to ensure bid fairness."
The auction closes on Aug. 14.
In the meantime, how high the bidding goes — well, that's anyone's guess.
— With files from The Canadian Press
View original article here Source