Fans rally to show support for Oilers' Ethan Bear in wake of racist comments
An Edmonton Oilers anti-racism fan event drew hundreds of Ethan Bear supporters, and a surprise appearance by the defenceman on Saturday afternoon.
Bear was the target of numerous racist online comments after his team was swept from the Stanley Cup playoffs Monday night.
A sea of fans wearing orange and blue Oilers jerseys — most branded with Bear's name and number 74 — gathered outside Rogers Place arena in Edmonton. Some fans carried signs denouncing racism and a banner bearing the name Ochapowace First Nation, the Saskatchewan Cree First Nation where Bear was raised.
Comedian Don Burnstick, an organizer of the rally, said the event was a chance for fans to show support for Bear in the wake of the racist comments.
"Enough is enough," Burnstick said. "Ethan is an exceptional young man and the Oilers are lucky to have him."
Organizers were not expecting Bear to show up, but partway through the rally, he drove by to greet the crowd gathered.
"Everybody went nuts," Burnstick said. "It was a lot of fun. Lots of positive vibes, lots of good energy."
Racism is still widespread across hockey, Burnstick said, citing Indigenous children and other players of colour being called racist slurs at rinks regularly.
"Please stop with the racism, the name calling, this is not the '70s anymore, it's not the '60s," Burnstick said.
Blair Gladue, also known as Edmonton Oilers' "superfan Magoo," said racism has no part in hockey.
"We are all one," Gladue said. "It don't matter who you are or where you come from.
"It's all about peace and love. No to racism. And we stand in solidarity with our brother Ethan Bear."
Chiefs from across Canada, drummers from Maskwacis, Alta., and elders took part in the fan event.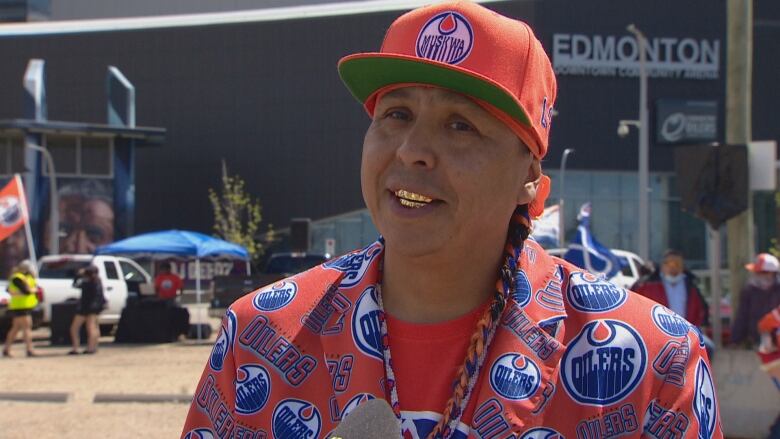 Chief Gregory Desjarlais of Frog Lake First Nation said at the rally that Bear is an inspiration for many Indigenous people.
"There's been so much against us First Nations people," Desjarlais said. "To play at the national level, a professional hockey player, it opens the eyes, the minds, the hearts of young people that they can also do it."
View original article here Source